Ever since Velier effectively took over the distribution of the Hampden Estate original bottlings, we saw a complete revamp of the small portfolio Hampden has released since the Hussey family took over the distillery in 2009. (It consisted of three bottlings, of which one is confirmed gone, and another presumably disappearing from the market soon.)
Hampden Estate now sets itself apart from Hampden rum acquired through brokers: tropical ageing at the distillery. With the Hampden Estate rums and the Great House releases, the positive influence of Luca Gargano on the bottlings is noticeable: elevating Hampden Estate rums from interchangeable standard products to a unique experience. Of course the route of driving towards a more premium approach is not exclusive to Hampden Estate.
Single Cask Collection
For the first time, rum from Hampden Estate is offered as on site aged, single cask bottlings. They were released at cask strength and almost exclusively tied to spirits festivals around the globe. This meant that collectors rushed through the internet, paying almost any price to get all bottles, which sometimes were harder to get, depending on their location.
I luckily got to take part of a splitting of the whole collection from a french rum enthusiast, and shared it with Marius from SingleCaskRum. We did the tasting together, but did neither share our notes, nor our ratings beforehand. You can find his review here: single cask rum review
Let's jump right to the bottles: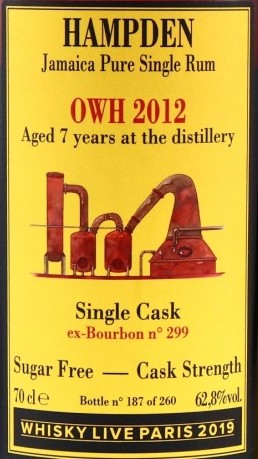 OWH 2012
Whisky Live Paris 2019
7yo 62,8%
Nose: mild and mellow, as one would expect from Hampden's lowest ester mark. Citrus and spices build the initial aroma, which is being accompanied by mango and pineapple. All are being underlaid with a glue background. After a while, a distinct sweetness joins, that reminds me of an exotic fruit salad. The glue is a bit more present now and the diffuse wood aroma now smells distinctively like oak.
Palate: tingly alcohol, overripe mango and citric acid. There is not a lot of body to this, and it feels rather thin. The finish reveals a comically strong note of very dry sherry, that ends with a medium long and slightly spicy finish of oak, and a little bit of heat.
This certainly will never be my favourite mark. With the Great House and the Hampden Estate, it shows that OWH profits from added higher ester rums in a blend.
72/100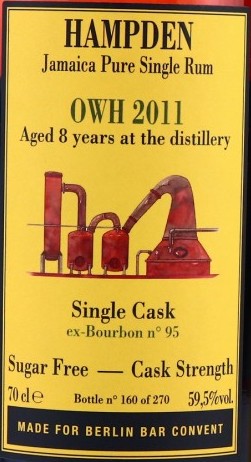 OWH 2011
Berlin Bar Convent 2019
8yo 59,5%
Nose: initially, it is much more alcoholic than the 2012, despite being lower abv. There is a lot of lovage and spices which are presented in a metallic and dry bouquet. Also, a slight sweetness is present. After a while, the lovage comes forth stronger and there is a note of anise, and the metal again.
Palate: a specific bitterness, that reminds me of grappa or eau de vie with a dry, astringent mouth feel. The alcohol is surprisingly well integrated, despite the sharp nose. The rum has a bit more body to it. The finish comes forth with a lot of wood and spice. It is warm, but not sharp, and ends with a long bitter note of grappa. Just now I notice that there is virtually no glue here. weird.
76/100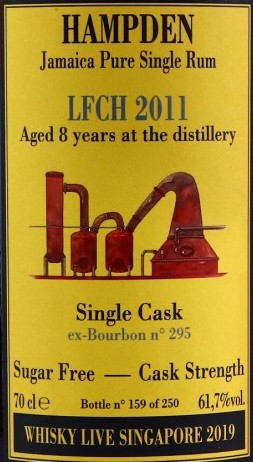 LFCH 2011
Whisky Live Singapore 2019
8yo 61,7%
Nose: and the glue is back! And it brought some nail polish remover! This one smells a lot heavier than the first two. Pipe tobacco, mint and a note of cherry coke out of a can. After a while, it mingles into a mint-cherry pie, which pushes the tobacco in the background.
Palate: there are typical tastes of oak barrel: vanilla and a soft wooden note. There is a more distinct sweetness than before. With the second sip, there is the tobacco leaf from the nose, and some fresh cut pears. They disappear into a medium long and warm finish of wood and tobacco.
78/100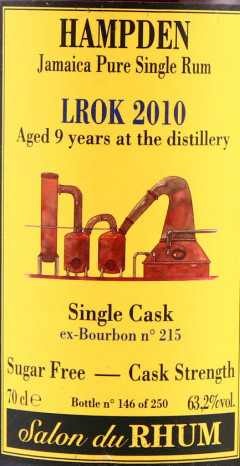 LROK 2010
Salon du RHUM Spa 2019
9yo 63,2%
Nose: savoury notes of spices, wood and glue are joined by strawberries and rotten banana. This one is certainly more intense! Left for a while, it becomes more acidic and vinegary, the strawberries come through more.
Palate: the strawberries have become overripe and are joined by floral and peachy aromas. There is oak wood, giving it a certain dryness, and the acidity adds a shrub taste that comes with a little bit of iodine.
Then the esters really kick in when the rum reaches the throat. A really pleasant finish with astringent wood, a nice prickle of alcohol with the aforementioned shrub, that tends to become a bit more like raspberry balsamic. It is long, with slightly bitter wood, iodine and a persipane-like fruitiness. This is certainly a step up from the first half for me!
84/100
Now we are leaving the venue bottlings and come to the bottles released through LMDW and Spirit Academy.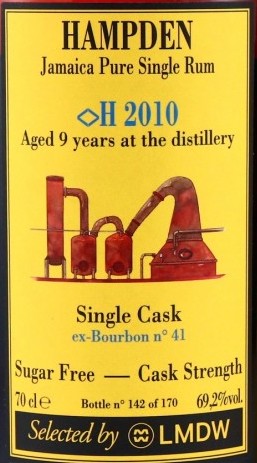 <> H 2010
selected by LMDW
9yo 69,2%
Nose: a real fruit basket! Overripe banana and pineapple, with the typical strong glue notes. After a while, some spice and wood gets through, but man, this is all fruit and ester. (In a very good way, although there is not much else…)
Palate: there is an oaky sweetness, that, along with some roast flavours, joins the overripe banana and pineapple. The alcohol is present, but not unpleasant. The esters have an almost pistachio-like appeal. Slowly, the astringent wood dries my mouth, and concludes to a very long and smooth finish of oak, pistachio, and the tropical fruits coming back here and there. This is really a superb example of what Hampden can achieve!
94/100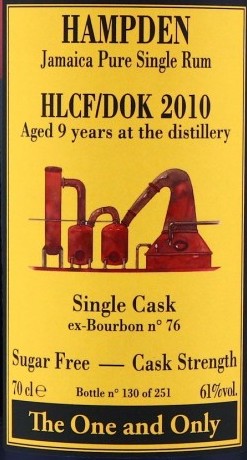 HLCF/DOK 2010
The One and Only
9yo 61%
Nose: loads of aroma. Mostly glue, nail polish, and fruit aromas, now going towards a more artificial cherry lollipop, that we got as children. There is more acidity in here. Being left to rest, it reveals some dry wood aromas and some more strawberries. Also a little bit of tobacco.
Palate: initially, there is glue and that cherry lollipop again. They are being joined by the overripe banana and some buttery shortbread. It is intense, but short lived. The finish is very short and smooth, with banana, and a little wood. Despite being 61%, there is zero heat from the alcohol. This rum is quick in your face, and leaves just as sudden. It is pleasant, but being a big fan of the HLCF mark, I fear that the DOK part did not elevate the HLCF in this case!
88/100
sources:
http://www.jamaicaobserver.com/sunday-finance/hampden-estate-prepares-for-greater-rum-demand_153575
https://www.lamaisonandvelier.com/the-hampden-estate-distillery-appoints-the-house-velier-as-worldwide-distributor/