First of all, I am glad to tell you that my hiatus is finally over. In a broader sense, I work in public health, so the last year was a really demanding one and other things had priority.
But let's resume with something that my friend Ivar from rum revelations recently discovered. Apparently, there has been a massive change in the standard range of El Dorado in regards to their addition of adulteration. Ivar did a comparison of the 15 year old and noticed a drastically different product presented to him. And since I had a pair of the 12 and 15 year old at home that were bought in 2009, I ordered their current counterparts and went testing.
There is almost no hint to the change, and even the new label does not guarantee that you will get the versions I bought for this review. (Thanks to Helmut from schlimmerdurst.net for the info). It seems that the recent standard range offering, given that this is not a one-batch experiment, has reduced the rums' sugar content in 2019 with the new label and then drastically again in 2020. To illustrate let's see the hydrometer measurements in comparison:
| | | | |
| --- | --- | --- | --- |
| Hydrometer readings | Bought 2009 | Bottlecode 2019 | Bottlecode 2020 |
| El Dorado 12 | 35 g/L | n/a | 6 g/L |
| El Dorado 15 | 48 g/L | 21 g/L (Measured by Helmut) | 0 g/L |
That is quite the difference, so I went along and did them semi blind in the presented order:
Tasting: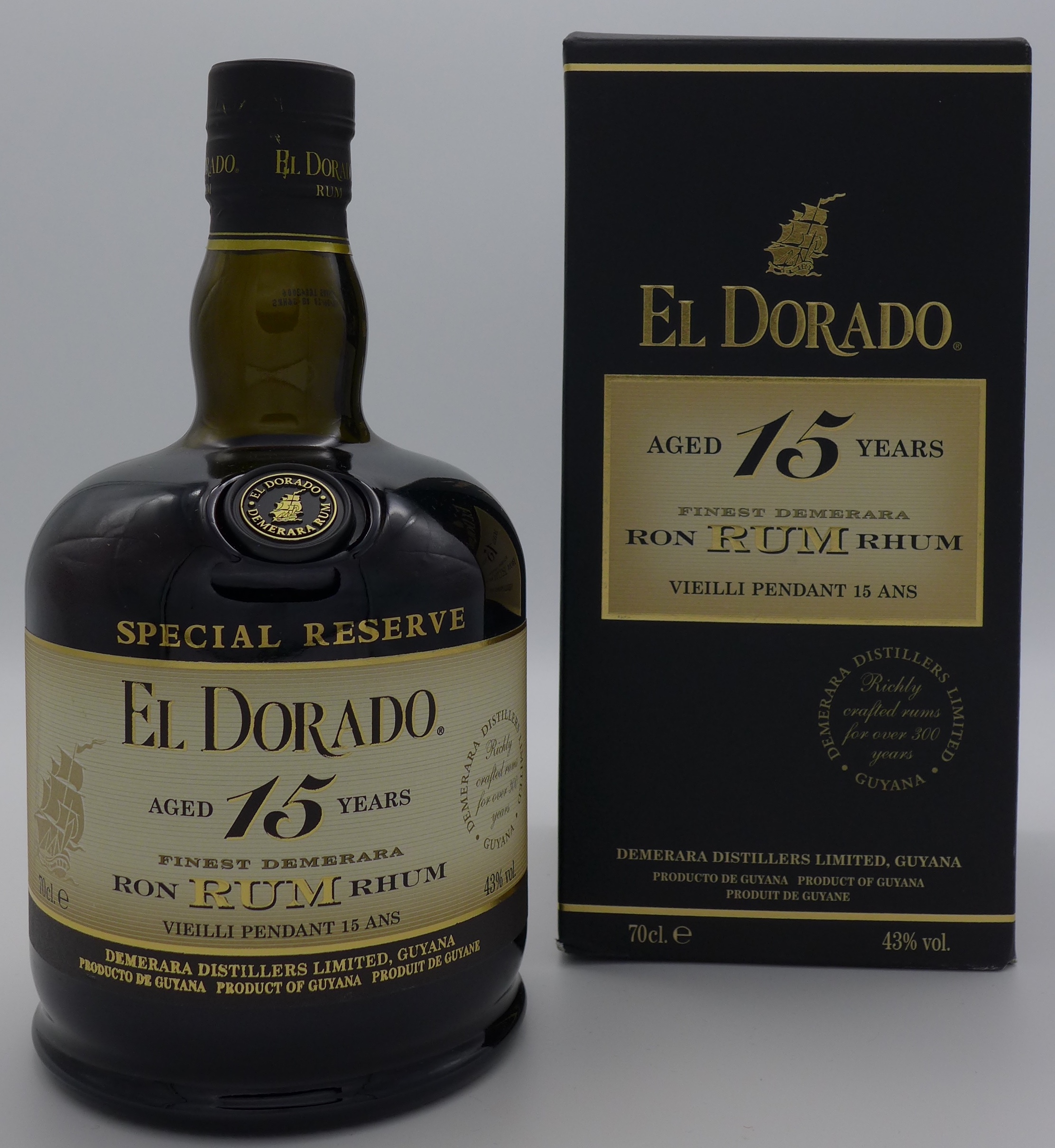 El Dorado 15
Bottled 2020, distilled around 2005
43%
Nose: At first, there is a lot of dry oak wood and caramel; the alcohol is almost not present at all. After a while, some spice and a hint of vanilla appear in the mix. There still is some sweetness, but it never dominates. The spices get more complex, nutmeg and allspice with some dried herbs. I like it.
Palate: At first, there is a little bit of alcoholic sharpness that vanishes as fast as it came. There is a slight sweetness that reminds me of raisins but it is toned down quite a bit by an astringent dryness with loads of complex wood aromas. Something fresh in the background, but it withers away to a long-lasting finish of lingering caramel and a warm and dry wood bouquet.
Blind-Tasting Guess: I am quite certain that this is the new 15 year old. I really like it, this is the standard offering from Guyana we deserve!
81/100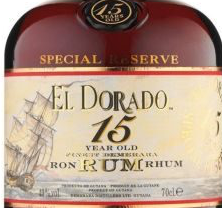 El Dorado 15
Bought 2009, distilled around 1994
43%
Nose: Heavy and sweet caramel, and loads of it. I am not sure whether the sharpness is the sugar or the alcohol. Otherwise, it is initially rather flat. Leaving it for a while, it opens up with some more oak and some lovage, but still, everything is syrupy booze…
Palate: There it is again, that sickly sweetness, syrupy and a hint of oak. With this, the rum finishes into a bitter and sweet medley that lingers callously long.
Blind-Tasting Guess: I have surprisingly little to say about this. It is overly sweet and unbalanced, and the direct comparison to the first glass feels unreal – I think this must be the old 12 year old. Not good.
56/100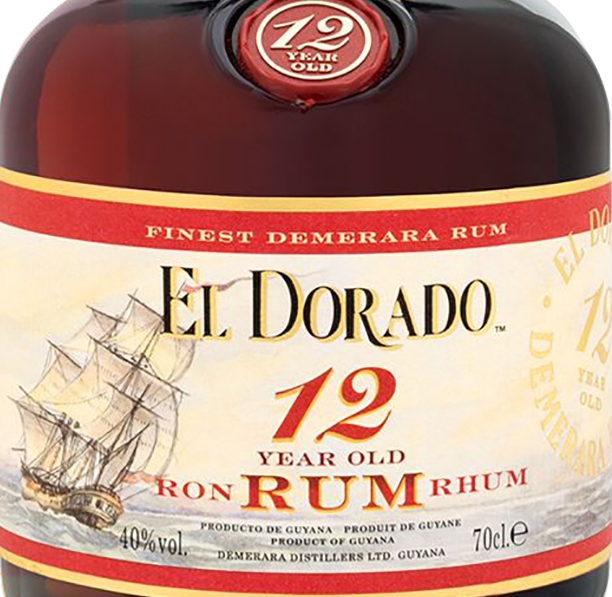 El Dorado 12
Bought 2009, distilled around 1997
40%
Nose: Wood and some spices are met by a lot of not too unpleasant toffee. Leaving it to breathe gives just more spicy wood and, the toffee turns vanilla pudding.
Palate: Again with the sugar, it hits you right in the face. Sweetness and vanilla, and in the background a tiny bit of wood. But at all times it is overthrown by the sweetness. The finish has less stingy bitterness than the one before, but it's there. It is not as sickly sweet, and there is virtually no alcoholic sharpness, probably because of the sugar.
Blind-Tasting Guess: This is slightly better than the previous one but still leaves a lot of space above it. I assume this is the old 15 year old.
60/100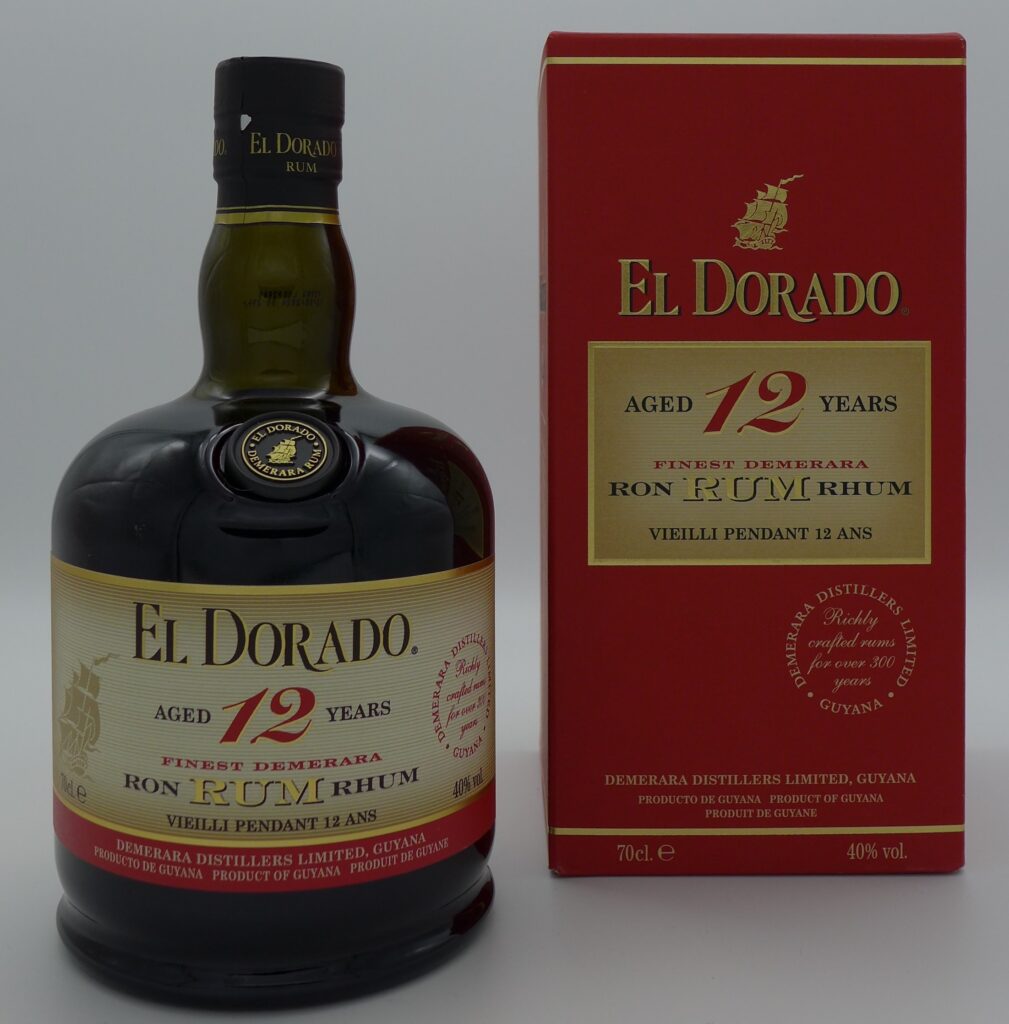 El Dorado 12
Bottled 2020, distilled around 2007
40%
Nose: At first, this seems a little flat. Some oak and spice, and a lot more alcohol than the middle two. Leaving it open changes this a lot: a faint sweetness, like prunes or raisins inside an oak cask. All in all, the smells get more complex, the nutmeg and the allspice come back. The caramelly sweetness is pleasant, and it actually is pretty balanced in the nose.
Palate: There is a big first wave of the spices and toffee, accompanied by a slight alcoholic sharpness. This is not as complex as the nose suggested, but it is really pleasant. In the finish, there is some astringent wood, but not as bitter as the first one. It fades into lingering vanilla pudding with a slight warmth. The palate/rum finishes slightly flat, which is probably due to some adulteration.
Blind-Tasting Guess: All in all, I assume this is what hooks newbies to rum, in a good way. I assume this is the new 12 year old since the kinship to the first one is evident to me.
77/100
Verdict:
I was shocked by how different the iterations of both bottles were. In direct comparison, both of the old ones were unbearably sweet. DDL has always officially denied adding sugar to their rums. After discovering that they now, step by step, went away from the sugar that was obviously there, leaves me with mixed feelings.
I applaud them for heading into the right direction: both new rums are fantastic value, and miles better than their ancestors. The 12 year old, for me, is a perfect starter rum that I will forgive its low adulteration. The 15 year old is a new staple for readily available and low-priced Guyanese rum. I personally would wish for some more ABV, but ithe 15 year old has literally no competition at the moment.
The fact that you cannot discern by the label alone if your 15 year old is unadulterated before you check the production date is a grave mistake to me. DDL could just have started a new blend with a new label. As it is, it will take some time for the old ones to disappear. But, if that is the future for their standard range, and given that some of their other OB El Dorado offerings were decent too, I am genuinely looking forward to what the future holds for us.
sources:
1.) https://www.rumrevelations.com/post/el-dorado-15-rum-review-old-vs-new-where-s-the-sugar